OHecu has been serving members since 1933
The Ohio Educational Credit Union (OHecu) is a full-service financial institution. Our goal is to recognize and understand the unique financial needs of our individual members and fulfill those needs through a variety of diversified products and services while adhering to the Credit Union philosophy of "People helping People."
OHecu Mission Statement

"Building our members' financial future through a full range of superior financial services, education and exceptional value."
OHecu Background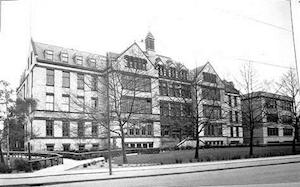 The Ohio Educational Credit Union was incorporated in 1933 as the Cleveland Teachers Credit Union. Through the many years that followed, the Credit Union provided quality service to its members based on the fundamental principle underlying financial cooperatives – "People Helping People." From its inception, the Credit Union provided a diverse selection of quality services for employees and family members of the Cleveland Public School System. In 1990 changes to the charter have opened Credit Union membership to all educational institutions throughout the state of Ohio along with a variety of other organizations.
From the beginning, the Credit Union's Board of Directors and committees have been comprised of unpaid member volunteers. These volunteers bring with them a full spectrum of financial and credit union experience and together form a progressive and forward-thinking governing body. It's this team that provides a foundation for the quality of service enjoyed by the membership.
The varied Credit Union membership includes students, alumni, employees and retirees from primary and secondary schools, universities, teaching hospitals and public and private trade schools throughout Ohio. In addition to educational institutions, OHecu also serves individuals from several community service organizations, home health care providers, manufacturing, day-care services and arts organizations.
OHecu is chartered by the State of Ohio.
Financial Cooperative Principles
OHecu has adhered to the philosophy of 'People helping People' and supports the seven cooperative principles. These principles are an integral part of OHecu. We maintain these principles in all aspects of our business initiatives.
Voluntary Membership
Credit Unions are voluntary, cooperative organizations, offering services to people willing to accept the responsibilities and benefits of membership. The board of directors consists of unpaid volunteers elected by the membership.
Democratic Member Control
Credit Unions are democratic organizations owned and controlled by its members, one member one vote, with equal opportunity for participation.
Members' Economic Participation
Members are the owners; they contribute to, and democratically control, the capital of Credit Unions. This benefits members in proportion to their transactions with Credit Unions rather than on their capital invested.
Autonomy and Independence
Credit Unions are autonomous, self-help organizations controlled by its membership.
Education, Training and Information
Credit Unions provide education and training to members so they'll benefit from, and contribute effectively to, the development of credit unions.
Cooperation Among Cooperatives
Credit Unions serve their members most effectively and strengthen the credit union's cooperative movement by working together with other credit unions directly through local, state, regional, and national structures.
Concern for Community
Credit Unions focus on more than just members' needs, they also work for the sustainable development of communities, including people of modest means, through policies developed and accepted by the members.